PVC Coated Fiberglass Measuring Tapes
MILLION OPEN REEL & MILLION CUSTOM
"MILLION TAPES" ARE MANUFACTURED TO WITHSTAND RUGGED USE AND RESIST TEAR, YEAR AFTER YEAR, EVEN UNDER ROUGH HANDLING AND EXTREME WHETHER CONDITIONS AND TEMPERATURES.
SUPERIOR DURABILITY
HIGH ACCURACY
HIGH VISIBILITY
NON-CONDUCTIVE
GOOD DESIGNED REEL/CASE
WEATHER RESISTANT
EASY TO CLEAN
FEATURES:
STRENGTH is assured through an inner core of extreme tough Glass Fiber and an overlay of protective Poly Vinyl Chloride. The tape breaking point is more than 2,000N.
ACCURACY is almost comparable with that of conventional steel measuring tapes. The tolerance on MILLION TAPE: within +-5mm in 30 meters long.
LEGIBILITY is excellent as all marking are printed with ultraviolet-fixation permeating ink. Thereby, the markings are hardly come off for years of use.
NON-CONDUCTIVE tape blade is made of two non-conductive materials which render the tape absolutely safe from hazards. The tape has a proven dielectric strength of 200,000 V/m.
DESIGN, through long experiences in our own field, makes the MILLION TAPES series a wise choice for you.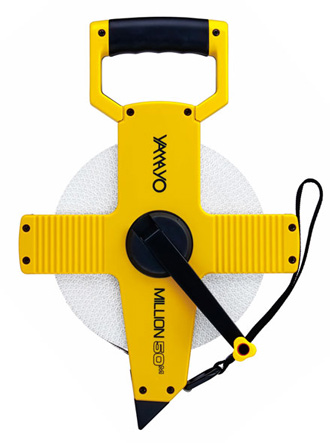 MILLION OPEN REEL
PVC coated fiberglass tape in ABS Open Reel.
#width:12.5mm #Thick:0.47mm #Tension:20N
| Cat. Nos. | Lengths |
| --- | --- |
| OTR30 | 30m |
| OTR50 | 50m |
| OTR100 | 100m |
DUAL MARKINGS
MARKING SPECIFICATIONS
Type of graduation : 2/EC5
Descriptions : Metric/Metric on both sides
Graduations :

---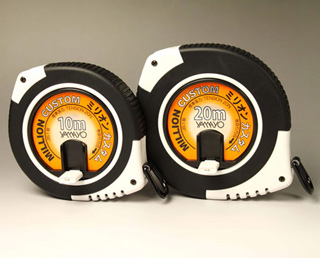 MILLION CUSTOM
PVC coated fiberglass tape in ABS Case.
#width:12.5mm #Thick:0.47mm #Tension:20N
| Cat. Nos. | Lengths |
| --- | --- |
| MCT10 | 10m |
| MCT20 | 20m |
The following EEC standard tape is also available.
Type of graduation : EC2
Metric only on one side(2mm)
Graduations :