Convex Pocket Steel Measuring Tape
CONVEX PACKAGING & TAPE SPECIFICATIONS
CONVEX--FINE & OSTOP---
"YAMAYO" original design for "Pocket Steel Tapes"
Designed Swollen Case on its both sides has no name plate.
So compact design that fits comfortably in the palm of your hand!
The compact and Round ABS Case is heavy duty and light weight as well as easy to handle.
High quality carbon steel with acrylic resin coating offers accurate measurements.
Improved Spring System ensures smooth return of tape minimizing impact at the moment of blade's fully return.
FEATURES:
FINE CONVEX WITH SAFETY BRAKE (except 2meter tape)

WITH BELT CLIP (OCB13/16/19/25)

WITH REINFORCED PLATE. WITH 3 RIVETS ON BACK OF TAPE END (for 19/25mm wide tapes)

OSTOP CONVEX WITH ROCK BUTTON

WITH HAND STRAP. WITHOUT BELT CLIP (FC13/16 OC13/16)

WITH SHOCK ABSORBER (for 16/19/25mm wide tapes)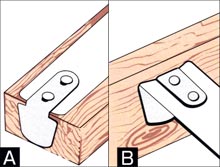 Self compensation tip
A:Zero point at inside of the tip
B:Zero point at outside of the tip
PACKAGING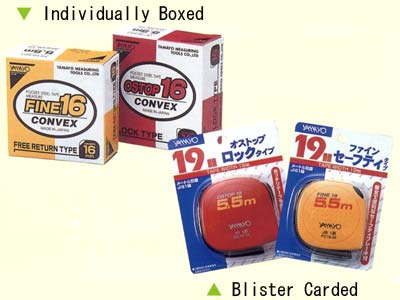 TAPE SPECIFICATIONS